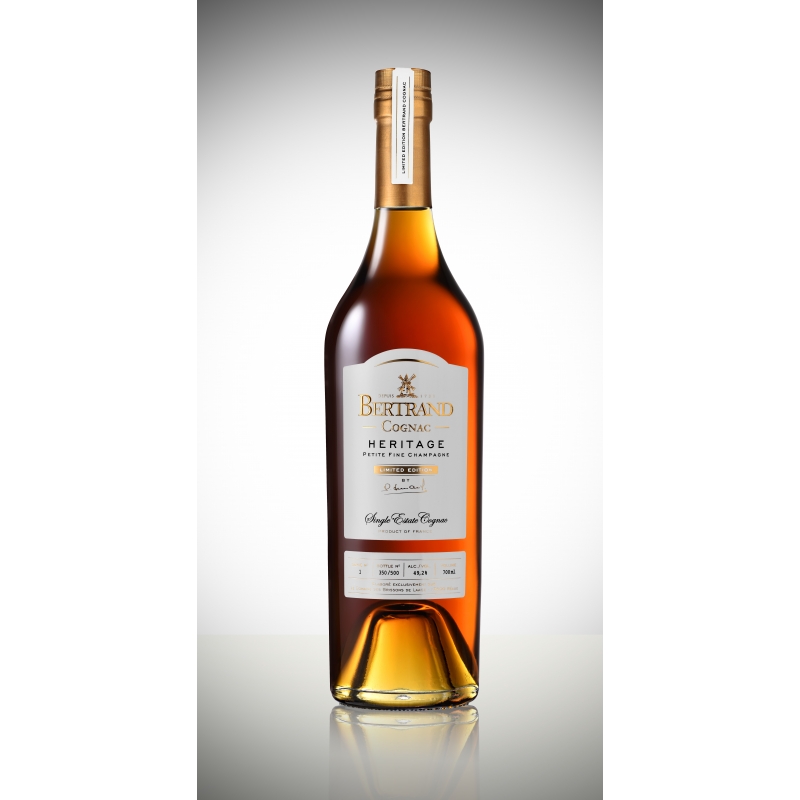  
Cognac Hors d'Age Heritage Bertrand
Cognac Bertrand Hors d'Age Heritage :
Setting aside this lot of eau-de-vie in the 1960s, Raymond Bertrand had perceived all its potential.
More than half a century later, his grandchildren decide to share this legacy.
Description
Cognac Bertrand Hors d'Age Heritage :
With all the expertise and ability of Raymond Bertrand, this lot was distilled 'sur lies' in small, wood fired stills of 8 hectolitres before being aged in red 'fûts roux'
This unique lot is the very definition of rancio, the noble aroma found only in the greatest eaux-de-vie of the Charentes. Descended naturally, this cognac is pure and unfiltered.
All the generosity of Raymond Bertrand is here in this single lot series which is limited to 500 bottles. With this limited edition, lovers of our cognacs are part of our history, written since 1731.
TASTING NOTES:
To the eye, we are in the presence of a golden gown, with multiple reflections and hues that dance in the light, from amber to mahogany.
The tears are slow and generous, a sign of the supreme opulence of this nectar.
The nose is incredibly intense. We immediately detect aromas of vanilla and delicate brioche, the second nose with touches of rancio and nutmeg, typical of a very old cognac.
The palate is full and structured. It evolves with aromas of stewed fruit such as quince and fig, sprinkled with a hint of honey.
Its long aromatic persistence is due to a slow maturation that allows its rancio notes to emerge and brings harmony to the spicy, exotic and woody facets of its character.
Conclusion: A captivating and wild Cognac.
And to draw a parallel between the most beautiful terroirs of cognac we have chosen to explore the most remarkable Cuban terroirs, Vuelta Abajo.
This region provides leaves that will produce some of the best cigars, especially the Siglo VI, in the range of Cohiba.
Gourmet pairing: Deer fillet in hazelnut crust, oyster mushrooms sautéed in hazelnut oil. Fine pastries of chocolate (finger tout chocolat), praline (feuillantine praliné), and caramel (cœur caramel).
T ° of service: To taste around 18 degrees (C).