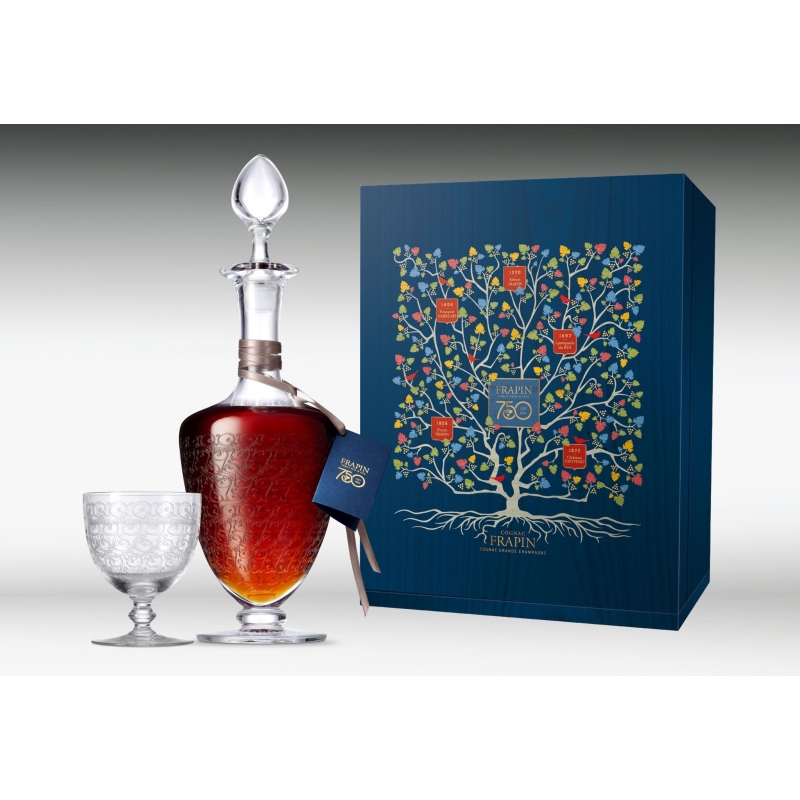  
Carafe Frapin 750
FRAPIN 750, A LEGENDARY COGNAC...
...born from an old dame jeanne kept in our historic «Pierre Frapin Paradis» cellar
Description
The oldest member of the family was born in the Cognac region in 1270: 750 years ago! As passionate winegrowers, the Frapins have overseen the transmission of their vineyard for centuries.
Within these 8 centuries the Frapin Family got a rich history and strong milestones:
- 1494: birth of François Rabelais, the famous 16th century writer and son of Anne-Catherine Frapin.
- 1697: King Louis XIV awards a coat of arms of apothecary to Pierre Frapin.
- 1858: birth of Pierre Frapin who set a family legendary milestone when he tirelessly replanted the vines destroyed by phylloxera and created the brand Cognac Frapin.
- 1872: the Chateau Fontpinot is completed, it is the epicentre of the vineyard into the heart of Grande Champagne.
To celebrate this anniversary, Frapin is selling 21 exceptional bottles symbolising the 21 generations of the Frapins, who have treaded the Grande Champagne soil over the past 750 years. This unreleased elixir of remarkable age embodies the Frapin style. The experienced Cognac taster will be touched by the rare and unique qualities of Frapin 750, enjoying a most memorable emotion.
Tasting notes:
Appearance & nose: shimmering, rich amber color. Deep mahogany highlights. The nose is ­ne and extremely delicate. On the palate, gourmet notes of pear and quince with light notes of wood in the background. Followed by voluptuous aromas speci­c to very old cognacs: dried prune, old port, cocoa. The ­nish shows exceptionally rare notes of black tea and licorice. Supple woody aromas with spicy notes. The ­nesse is immediately noticeable, with subtle notes of nutmeg and exotic wood. Some warm balsamic underlays are crowned with a sa‑ron note.
During the tasting, the rancio asserts itself, lining the palate, imposing itself divinely for a long ­nish. A rare pearl, secretly kept safe from the tides of time, Frapin 750 o‑ers an atypical, extraordinarily fabulous tasting, characteristic of ultra-old cognacs. An invitation for you to experience the intoxicating emotion of a journey through time.
Decanter and box:
Frapin 750 comes in a sumptuous Baccarat crystal carafe and a duet of crystal glasses, both engraved with the Frapin 750 emblem.
The carafe and glasses will be set in an Elie Bleu box. The gorgeous illustration will be handmade with marquetry technique.
Inside, the box is made by wood with a drawer including a book, a sealed envelope and a spot for a key. Possibility to customize the outside of the box with a sentence as Confectionné pour XXX. Baccarat, Elie Bleu, Frapin: exceptional brands symbolizing unique craftmanship.